It's been 37 years since South Africa hosted the Intercontinental GT Challenge at the Kyalami circuit and it's anticipated to be the greatest motor event in South Africa this year, where the world's best endurance drivers and international manufacturers i.e. Audi Sport, Bentley, BMW, Ferrari, Honda, Mercedes-AMG, Nissan, Porsche, Aston Martin and Lamborghini join to fight it out for a place on the grand stage of endurance motor racing in 2019.
Kyalami race track and conference centre was recently revamped with a massive 700+ million Rand investment in order to obtain these prestige international events.
Part of this investment was the development of sophisticated technological infrastructure for their network facilities, security services and hosting services. This included a complete fibre backbone, 5G, dedicated Fibre services as well as a world-class Uniview race surveillance system and control room designed and implemented by Delcor, (supported and distributed by Eurobyte Technology).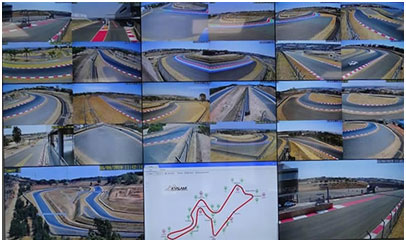 Uniview-Kyalami-race-control-room-4
What's unique about the Uniview Kyalami race control room?
Most international race tracks use analogue format because of the high frame rates required to monitor fast-moving vehicles, the limitation of this is the quality of the content management features.
In the Uniview Kyalami race control room, they use specialized high frame rate IP cameras, which have amazing video quality and analytical features such as:
o Being able to produce day like colour video streams at night
o Automatic Alerting if a vehicle is pushed off the road/barrier
 Resulting in a popup video stream of the incident
• Statics – Motorised lens 10x zoom 4.7~47mm (100m IR)
• PTZ – 4.7~148mm capable of seeing the tiniest details on the track!
Some of the most fascinating features available on the Uniview Kyalami race control room are:
• Having an interactive E-map that identifies and alerts a particular corner or section of road where an incident has occurred (e.g. if a vehicle is pushed off the road)
• Advanced incident reporting (where controllers are able to search by incident/event type, or by time)
• Multi- HD display video wall for superb uninterrupted streams
• Quick playback feature for single or multiple cameras
• Vehicle or people counting
• Facial recognition (identification by photo comparison database)
• Licence plate number database reporting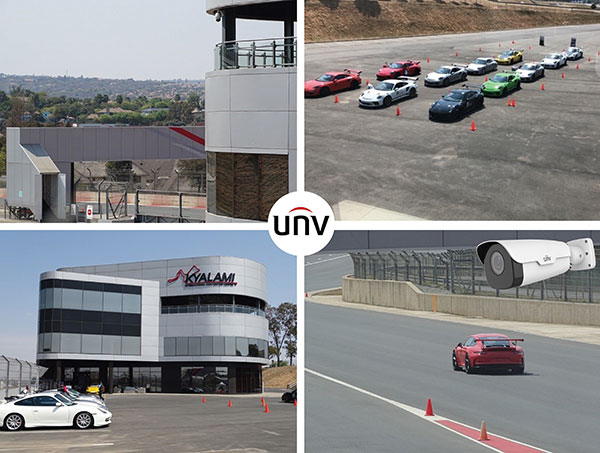 Uniview Kyalami race control room conclusion
The Uniview Kyalami race control room is considered to be the most imperative functional part for the race organisers management team, it's where the head doctors, race officials and key decision makers monitor and call the shots from. The sophisticated technology used provides the best quality video feeds and content management so that excellent judgement can be made to uphold the integrity of these prestigious race events.
Here are some of the Surveillance equipment we have implemented on the Uniview Kyalami control room
IPC262EBR9-HDUPZ (static cameras)
Key features for these cameras include:
• Starview series (capable of displaying full colour at night)
• 60FPS (ideal for capturing high speed vehicles)
• Motorized lens
• Smart analytics
IPC6252SR-X33U (Pan tilt Zoom cameras)
• Starlight series (colour in very low light environments)
• 60FPS (ideal for capturing high speed vehicles)
• 4.5mm ~148mm lens (capable of zooming into the smallest details on the track)
• Smart analytics
Unicorn (enterprise Video Management Software)
• Video wall (14 screens)
• 16 bays for additional backup (160TB)
• Expandable to 480TB
• Centralized storage options up to 24PB
• E-MAP Visual interactive map of the track with analytic alarm alerts, preview and playbacks
• Alarm centre management
• Advanced Organizational and role user management.
• 2000 channel management ability
NVR308-32E (Network video recorders)
• 32 channel systems
• 8x HDD SATA bays (80tb capacity storage)
• 4k HDMI outputs