Uniview, one of the world's leading manufacturer of video surveillance products and solutions, launched 2MP Lighthunter IR Network Positioning system Teleview series, including IPC7622ER-X44U and IPC7622EL-X55UG.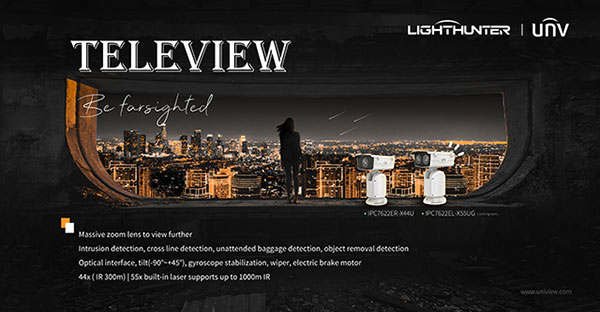 Long Distance Monitoring & Vast View
Teleview positioning system is vertical market product, which represents the top manufacturing ability. The camera features up to 55x optical zoom lens and smart laser IR, so it could see farther and capture high quality images no matter day or night. Meanwhile, the positioning system structure is designed to support a large vertical tilt angle from -90° to 45°, ensuring a vast panorama and incredible view.
Stable and Reliable
With the thickened aluminum alloy material, the large-sized base of Teleview positioning system can stably fit with the mounting surface. Meanwhile, the built-in gyroscope significantly helps reduce vibration and shaking of Teleview during outdoor high wind. All these designs guarantee the stability of the product and excellent image.
Teleview Positioning system is high-value product that satisfies vertical market demand for reliability. It detects abnormal voltage such as over-voltage or under-voltage, and trigger alarm timely. Meanwhile, if a sudden power failure occurs, the positioning system would trigger self-locking automatically. It means physically locking itself to prevent sudden head down and damaging the lens or components.
Easy to maintain, Easy to use
With the smart wiper, Teleview positioning system can clean itself automatically whenever in need. 7 alarm inputs and 2 alarm outputs are available, it means if the project involves multiple alarm devices, it could be easy to get everything connected. Teleview positioning system is also embedded with gradienter to ensure the horizontal position during installation.
With its high-quality large magnification, vast angle of view, excellent stability and reliability, the professional Teleview positioning system can be applied to special scenes, such as borders, ports, urban roads, airports, etc.