Easystar series is a new family member of the Easy series, a line of products featuring extremely cost-effective performance and delivers full-color images in low light conditions.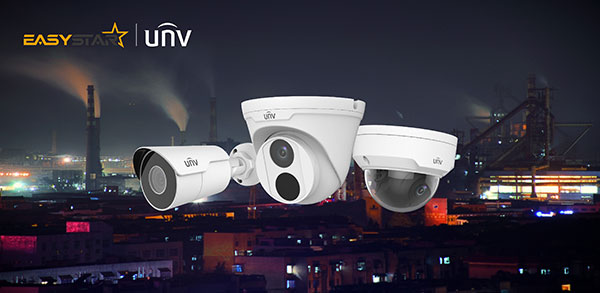 Entry-level Lowlight Product
Easystar IPCs adopt the backside-illuminated CMOS Sensor, which greatly improves light utilization. F1.6 iris design radically enhances light gathering capability. Meanwhile, a high transmittance lens significantly reduces the attenuation rate of light passing through the lens. Most importantly, UNV's uniquely patented technology U-ISP improves the definition and brightness of images. U-ISP features a new generation of noise reduction technology to enhance the signal-noise ratio and reduce blur. With a perfect combination of hardware and software, Easystar IPCs deliver incredible high-quality colorful images at low illumination of 0.002Lux.
Reliable performance
The IPCs of the Easystar series are also excellent in other environmental conditions. The entire series of products support IP67 waterproof and dustproof level, which can meet the needs of outdoor environments. They all support up to 50m infrared distance, combined with lowlight technology to deliver high-quality images around the clock. The current resolutions of the Easystar series are 4MP and 2MP. For 4MP products, and they also support 120dB true WDR.
Application scenarios
Easystar products meet the surveillance requirements of users for high-quality images in low light, featuring high-cost performance as entry-level lowlight products. The UNV Easystar IPCs can be used in schools, plazas, parking lots, shopping malls, airports, hotels, hospitals or any low-illumination scenes indoors or outdoors.